Apr 2019 Meeting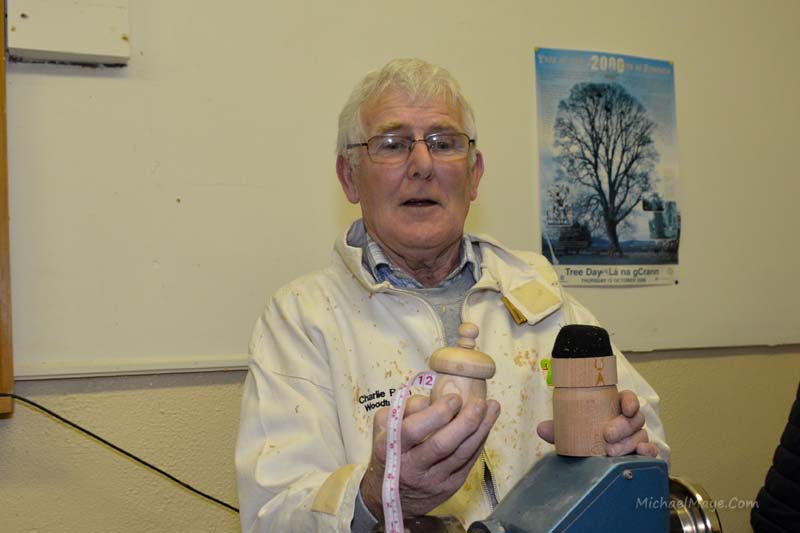 The April meeting of the CraobhEo 2018/19 year took place on the 11th April in the CraobhEo Centre in Aghamore.
Charlie Ryan, Craobh Cuig Deag Chapter and President of the IWG was our demonstrator for the evening.
 Charlie decided to turn two items, an acorn shaped measuring tape winder (sewing) and a needle box. He passed around some fine examples of his work and started with a discussion on safety and in particular dust in the workshop.
The first thing to do is to decide on the size of the tape you are going to use and plan your project around this. Next mount an ash blank between centres, round up and outline the acorn shape. Drill a recess with a 36 mm bit to the depth of the tape width plus 5 mm (for a washer). Turn a spigot for the lid and shape the acorn. Now mark slot for the tape to come out of the acorn and cut the slot. Drill a 6 mm hole 5 mm deep for dowel to hold tape. We had a little discussion then on sanding. Finish turning the acorn and part off.
Next turn the lid. Clean up face of the blank that's left and dish the centre. Turn recess for the acorn to fit into. Shape outside of lid and emount in jam chuck to finish top of lid. Drill 6 mm hole for tape dowel through the top of the lid. Measure length of dowel needed and cut top of dowel so tape can be inserted and leave room for a washer. Turn washer by drilling, shaping and parting off.
Next comes the knob. Mount a blank and round up. Drill 6 mm hole 10 mm deep for dowel to fit into. Shape the knob to your preferred design. Part off, remount and finish top of knob.
Next mount a blank for the needle box, round up and part off excess. Mark for cushion and turn recess to fit. Thus can also  be used as a chucking recess. Part off lid. Hollow out box, can be round or square. Simon Hope tool used here and easy to use. Part off box, remount in jam chuck using tape and finish bottom. Remount lid and fit recess to box. Job done.
Well done to Charlie for a wonderful demo and we were really grateful that you made the journey to the West. We hope you enjoyed the trip. Thank you.
Competition
The April competition was to turn a vase and there was an impressive display of items. A big thank you to those who took part. Charlie Ryan kindly agreed to do the critique afterwards and complimented the standard of turning on display. 
Competition piece for May is a laminated piece with a mixture of materials. Plenty of scope here to show off our design capabilities. 
 Monthly Chapter Competition Winners
Winner –    Tom Jordan
Second –    Michael Ruane
Third –       Padraig Grealis