Irish Woodturners Guild National Seminar 2017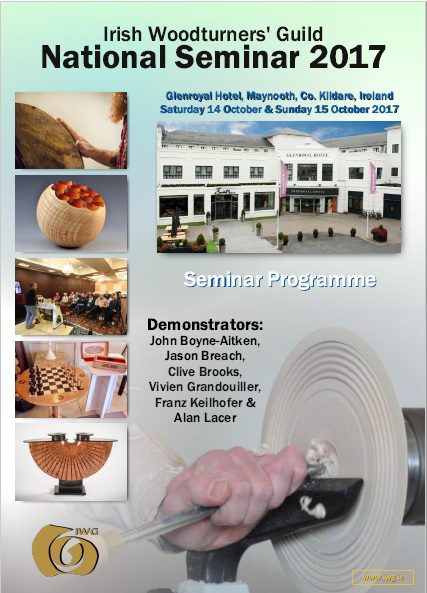 Irish Woodturners Guild National Seminar 2017
The Irish woodturners guild national seminar 2017 takes place in the Glenroyal Hotel in Maynooth on Saturday and Sunday the 14th & 15th of October next. Over the two day event, 40 demonstrations will take place offering something for woodturners of all skill levels. The line-up includes Alan Lacer (USA), Franz Keilhofer (Germany), Vivien Grandouiller (France), Jason Breach (UK), Clive Brooks (UK) and John Aitken (UK). The seminar competition, open to all delegates, features ten categories and is the premier showcase of the best of woodturning that Ireland has to offer. To view all the demonstrators profiles, visit the Irish Woodturners Guild website.
To book your place at this years seminar, Click here for the booking form.
Guild Chapter Challenge
The subject for this year's Chapter Challenge is a concrete mixer and the highly coveted trophy is sure to be hotly contested. Since its inception nine years ago, this competition has achieved its aims in fostering collaboration and group work between members within IWG chapters. Each year the imagination, creative flair, skill, attention to detail and sheer hard work put into the Chapter Challenge make it the centrepiece of the weekend.
The 2017 Chapter Challenge will be a concrete mixer. The rules for this competition are:
The chapter challenge will take place at the 2017 National Seminar and is open to all chapters of the IWG. Each chapter is entitled and encouraged to submit one entry with pieces contributed from a minimum of 5 chapter members.
The concrete mixer should be a working model. This means that it should move and spin freely as real concrete mixer would. It does not have to be powered. Additional related items such as shovels are welcome.
The maximum dimensions for the mixer are 1260mm length, 1200mm wide and 1460mm high.
There are no restrictions on the types of wood, however the entry must be made of entirely of wood. The use of woodturning techniques is encouraged and will be considered foremost by the judges over and above other disciplines such as woodcarving.
Chapters MUST submit a full list of materials used and may optionally include details of plans and techniques used to draw the attention of judges to them. (This text should not contain any information that would identify the chapter or turners involved to the judges).
The competition co-ordinator will require a full list of participants. We would also appreciate photos of the participants and the project during development to be submitted supplied.
The judges will select a winning entry from those that meet the criteria above based on their overall impression of the entries and woodturning.
Above all, have fun and good luck!
Download Irish Woodturners Guild National Seminar 2017 Programme
[download id="4608″]