Sep 2017 Meeting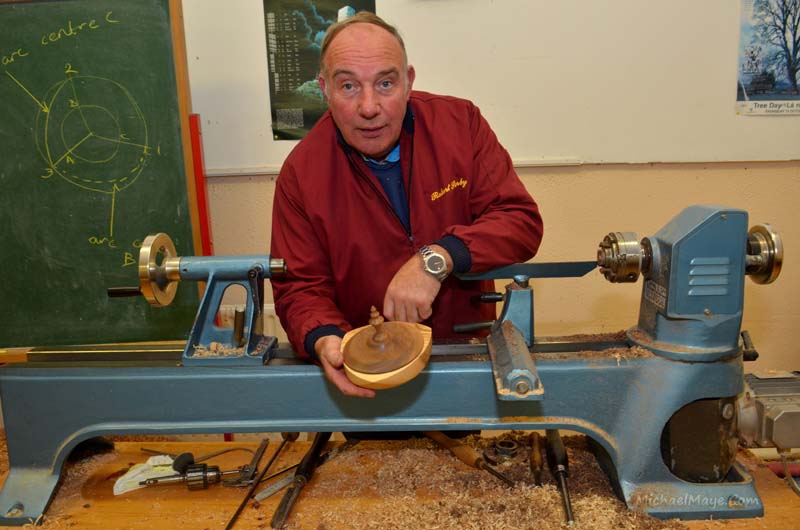 The first meeting of the Craobh Eo woodturning year was held on Thurs Sept 14th, 2017 in the Craobh Eo Centre in Aghamore.
Our Chairman, Sean Foody was our demonstrator for the evening.
Sean's project for the demo was a 3 sided lidded bowl. He started by mounting an ash blank on a face plate, rounding it, truing up the face and turning a spigot for the chuck.
Since this was an off centre turning demo, the first step was to mark out the 3 off centre turning points on the blank (both faces).  Start by setting a making gauge to the radius of the blank. Mark out a circle just inside the outside edge of the blank. On this circle mark out 6 points with the gauge using the set radius. Every second point then becomes an off centre point. Transfer these 3 points to the opposite face of the blank as well.
Sean then mounted the blank at off centre points 1 between two stebcentres and proceeding with caution (off centre) turned off the first side of the bowl. He then sanded this side with a pad attached to a drill. This was followed by same procedure for sides 2 and 3. The triangular blank was then remounted back on centre on the faceplate and the bottom tidied up before rechucking from the bottom and hollowing out the bowl. At this stage also the recess for the lid was cut.
Next up was the lid. A walnut blank was mounted on the faceplate and the face and edge tidied up. A recess was turned for chucking (to shape the top) and the lid fitted to the bowl. The lid was then rechucked and the top shaped.
Finally the finial for the top of the lid was turned. See photos below.
Thank you Sean for a great demo to start the new season off. A lot was packed into a short time. Well done.
Discussion took place on the cement mixer project at the end of the evening.
Competition
September's competition piece was a piece of your choice
There was a great turnout. See photos below. Well done to all who took part.
A survey took place to decide competition pieces for the year. Results will be circulated  next meeting. Meanwhile, competition piece for October is a chalice.
Fergal Megannety from the North West Chapter will be our demonstrator for October.
September Results
Winner                   –          Ian McDougall
Second (Shared)   –
Richie Barrett
Pat O'Malley
Martin Wilson
Tom Jordan
Download Handout
[download id="4786″]